In addition to being the foremost destination for landscaping, construction and general tool rentals, Mann's Rental & Janitorial Supply is also a cleaning supply store in Oklahoma. We serve the commercial janitorial sector and take pride in helping our customers run their businesses to the fullest.
We're also purveyors of niche equipment, including concrete tools. We understand that buying these items can be expensive, which is why we rent them for affordable prices when you need them. Our aim is to help our customers save money.
Products we rent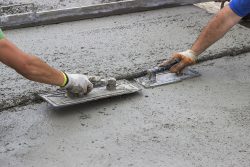 In addition to the wide range of landscaping and heavy-duty equipment we rent, we're also your destination for a variety of other products. Come to us for any and all equipment rental needs you might have, including:
Concrete equipment rental: Our stock of tools and equipment includes a wide range of concrete equipment, so you can pour, pave and cut to perfection. We're pleased to offer customers nearly any product they might need, including a superior range of concrete saws.
Janitorial supplies: Need commercial janitorial supplies? We've got everything you need to make facilities sparkle, including carpet shampoo, waxes, cleaning supplies, cleaning equipment, buffer supplies, hardwood floor supplies, deodorizers and more. We're your all-encompassing janitorial supply store in Oklahoma.
Fire extinguisher service
Fire safety is of paramount importance in any building, residential or commercial. Having a working, tested fire extinguisher on hand is the first and best step in taking precautions against a blaze. To help you protect yourself and your building to the fullest, we offer fire extinguisher inspections, recharge, testing and more.
Rent with us today
For more information about any of the products we rent or to inquire about a specific item you might be looking for, please contact us today by calling 580-234-6077 and we'll be happy to help you get the tools you need.